Antibody Labeling
Biotium Mix-n-Stain™ Kits
Our partner company Biotium has a clear focus on major innovations with over 30 international patents, covering a wide range of industry-leading technologies, including their outstanding Mix-n-Stain™ labeling kits for antibody conjugation.
Mix-n-Stain™ antibody labeling kits dramatically simplify the process of antibody labeling. The resulting conjugates perform comparably to pre-labeled antibodies from leading suppliers. Because the labeling is covalent, the conjugates are stable for long-term storage, and ideal for multi-color imaging and multiplex flow cytometry.
Each Mix-n-Stain™ kit comes with everything you need to perform the conjugation. Without a separation step, you will have an optimally labeled antibody conjugate ready to be used in any immunofluorescence staining experiment.
One breakthrough feature of Mix-n-Stain™ kits is that antibody labeling can be conducted in the presence of many common buffer components such as BSA, gelatin, azide and low concentrations of Tris. As a result, the kits are compatible with most commercial antibody formulations without an antibody purification step prior to the conjugation process.
Rapid Antibody Labeling with Next-Generation Fluorescent CF® Dyes, Biotin, & More
With Mix-n-Stain™ CF® Dye Antibody Labeling Kits, you can covalently label as little as ≤5 ug up to 100 ug of an antibody in just 30 minutes, with minimal hands-on time and 100% recovery of antibody. With slight modification in protocol, antibodies can be labeled in the presence of BSA, gelatin, or ascites fluid, for unrivaled convenience. See the Compatibility and Protocol Selection Flowchart below, or download the Product Protocol for a step-by-step worksheet to determine kit compatibility with your antibody.
These kits feature a choice of 29 superior CF® dyes, which have advantages in brightness and photostability compared to Alexa Fluor®, DyLight®, or other fluorescent dyes. Due to the high water solubility of CF® dyes, other proteins like BSA or gelatin in the labeling reaction have minimal effect on non-specific background, because non-IgG proteins are washed away during IF staining. We also offer Mix-n-Stain™ kits for biotin, FITC, DIG, and DNP labeling, as well as Mix-n-Stain™ Maxi Antibody Labeling Kits for 1 mg scale labeling reactions.
Features:
3 kit sizes: 5-20 ug, 20-50 ug, or 50-100 ug Ab
Choice of 29 CF® Dye colors, biotin, FITC, or haptens
Less than 30 seconds of hands-on time
30 minutes total reaction time
No purification of the product is required
Compatible with common antibody stabilizers
Find the perfect labeling kit for your antibody and application with Biotium's Protocol Selection Guide: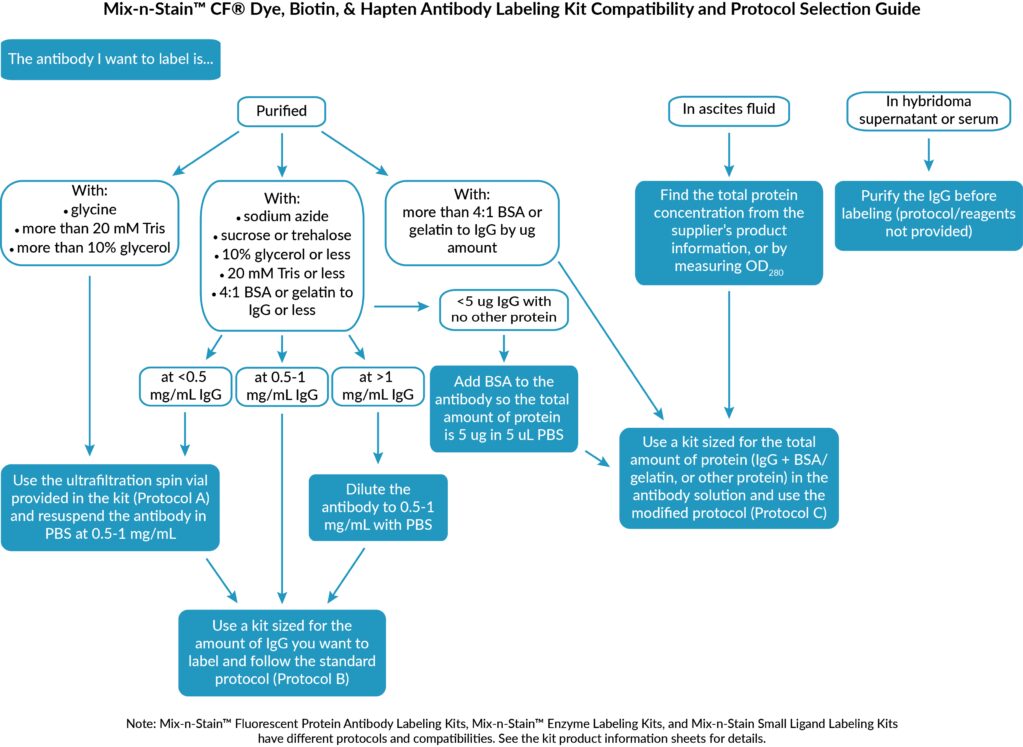 Compatible with antibody stabilizers and ascites
Featuring CF® Dyes with superior brightness

Monoclonal mouse anti-tubulin clone DM1A in ascites or purified in PBS with 1% BSA was labeled with CF®488A Mix-n-Stain™ using the modified protocol for total protein labeling. The Mix-n-Stain™-labeled antibodies performed comparably in immunofluorescence staining of HeLa cells as unlabeled antibody (in ascites) detected with secondary antibody.

Mouse anti-transferrin receptor antibody from (endosome and plasma membrane marker) was labeled using Lightning-Link® Rapid DyLight® Conjugation Kits from Novus Biologicals (left) or Mix-n-Stain™ CF® Dye Antibody Labeling Kits (right) according to manufacturers' instructions. The CF® dye conjugates show higher signal and more specific staining compared the DyLight®conjugates when imaged using the same settings, due to the superior brightness of CF® dyes. The insets show the same field of view imaged with a higher gain setting.

 

Combine direct & indirect IF for flexible multiplexing

Combined direct and indirect immunofluorescence staining of rat testis with mouse anti-tubulin and CF®488A goat anti-mouse (min x rat) (microtubules, green), CF®555 Mix-n-Stain™ labeled mouse anti-ZO1 (tight junctions, red) and CF®640R phalloidin (actin filaments, cyan). See our Tech Tip: Combined Direct & Indirect Immunofluorescence Using Primary Antibodies from the Same Host.
Also available from Biotium:
- Mix-n-Stain™ Nanobody Labeling Kits designed specifically for labeling single-domain Nanobodies® with one of Biotium's bright and photostable CF® dyes or biotin
- Mix-n-Stain™ CF® dye small ligand labeling kits for rapid labeling of small (MW ~ 150 – 5,000) and relatively high affinity biological ligands or substrates
- Mix-n-Stain™ Fluorescent Protein Antibody Labeling Kits to label antibodies for flow cytometry with R-PE (PE), APC, PerCP, and tandem dyes
- Mix-n-Stain™ Enzyme Antibody Labeling Kits to prepare antibody conjugates labeled with horseradish peroxidase (HRP), alkaline phosphatase (AP), or glucose oxidase (GOx) in about 2-3 hours
- VivoBrite™ Antibody Labeling Kits to be used for in vivo small animal studies
22.04.2021